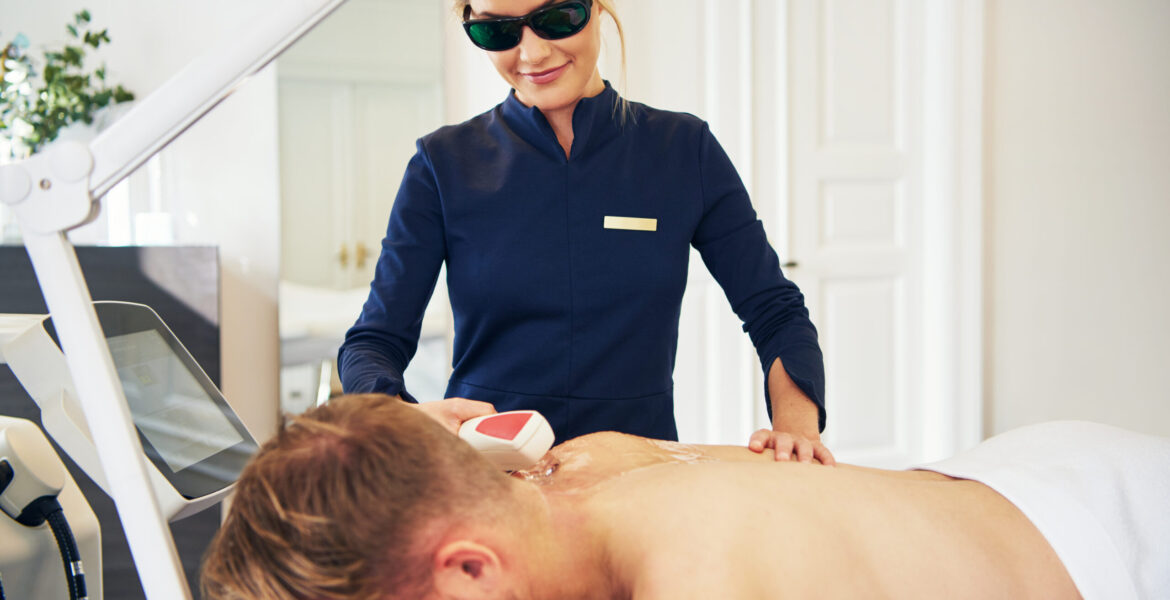 Services
Is Laser Hair Removal Permanent?
On April 17, 2023 by pubman
The pursuit of smooth, hair-free skin has led to many options for hair removal—from traditional methods like waxing and shaving to more advanced techniques like electrolysis and laser hair removal. But when it comes to the latter, is laser hair removal permanent? Keep reading to discover the factors that influence the permanence of laser hair removal and whether it is the right choice for you.
Understanding Laser Hair Removal
Laser hair removal is a non-invasive cosmetic procedure that uses focused light energy to target and destroy hair follicles. During the treatment, a laser emits light wavelengths that are absorbed by the pigment in the hair. The light energy then converts to heat, which damages the hair follicle and reduces the chances of future hair growth. This procedure can be performed on almost any part of the body, and many people seek laser hair removal in San Antonio and other locations to achieve lasting results.
It is important to understand that laser hair removal typically requires multiple sessions to achieve the desired results. This is because hair grows in different phases, and the laser can only target follicles in the active growth phase. Therefore, several treatments are necessary to catch each hair in the appropriate growth stage.
Laser hair removal is considered an effective and safe procedure, but it is essential to carefully choose a qualified provider with experience and credentials. Properly performed treatments minimize the risks of side effects like burns, scarring, and pigmentation changes.
Factors Affecting Permanence
The effectiveness and permanence of laser hair removal can vary based on several factors, including:
Skin color: Laser hair removal is generally more effective on individuals with light skin and dark hair, as the laser targets the pigment found in the hair. However, advancements in technology have improved the outcomes for people with darker skin tones.
Hair color and thickness: Darker and thicker hair responds better to laser treatment, as there is more pigment for the laser to target. Hair with little or no pigment, like light blonde, gray, or white hair, may not respond as well to laser hair removal.
Hormonal factors: Hormonal imbalances or medical conditions that cause excessive hair can affect the permanence of laser hair removal outcomes. In these cases, maintenance treatments may be necessary.
These factors, along with your personal expectations, should be discussed during a consultation with a professional laser hair removal provider.
Is It Permanent or Long-Lasting?
While laser hair removal is highly effective in reducing hair growth, it is not guaranteed to be permanent for everyone. In most cases, individuals experience a significant reduction in hair growth, ranging from 70 to 90 percent. This means that some hair may still grow, but the texture will usually be finer and more manageable than before.
For many people, the reduction in hair growth is considered to be long-lasting, and any regrowth may require further touch-up treatments to maintain the desired results. However, it is important to note that results can vary from one individual to another, and it is necessary to have realistic expectations about the outcome of laser hair removal treatments.
It is also essential to follow the recommended aftercare guidelines and treatment schedule provided by your laser hair removal professional. This will ensure that you achieve the best possible results and maintain them for an extended period.
Alternative Permanence Options
For those seeking a completely permanent solution for hair removal, electrolysis is currently the only FDA-approved method with guaranteed permanent results. Electrolysis uses an electric current to destroy individual hair follicles, thus preventing future hair growth.
However, electrolysis is a much slower and more time-consuming process compared to laser hair removal, as each hair follicle must be individually targeted. This makes it a less practical choice for larger areas of the body. It is best suited for smaller areas, like the eyebrows or upper lip.
Ultimately, the choice of hair removal method will depend on your personal preferences, budget, time constraints, and your desired outcome regarding the permanence of hair removal.
Altogether, laser hair removal is an effective and long-lasting solution for reducing hair growth. While it may not be permanent for everyone, the results can significantly improve the manageability and appearance of unwanted hair. By considering factors such as skin tone, hair color, and hormonal influences, you can make an informed decision about whether laser hair removal is the right choice for you.
Calendar
September 2023
M
T
W
T
F
S
S
1
2
3
4
5
6
7
8
9
10
11
12
13
14
15
16
17
18
19
20
21
22
23
24
25
26
27
28
29
30